Loose sphincter lips sink ships… perhaps Tom Arnold can get in on this new variation on Trump's social humiliation.
MONEY SHOT: Summer Zervos subpoenas 'The Apprentice' recordings to prove Trump defamed her by calling her a liar. The subpoena seeks ANY recording in which Trump speaks of women "in any sexual or inappropriate manner."#Maddow https://t.co/fkxQiTFP93 pic.twitter.com/KVF6pe6w1o

— Polly Sigh (@dcpoll) May 2, 2018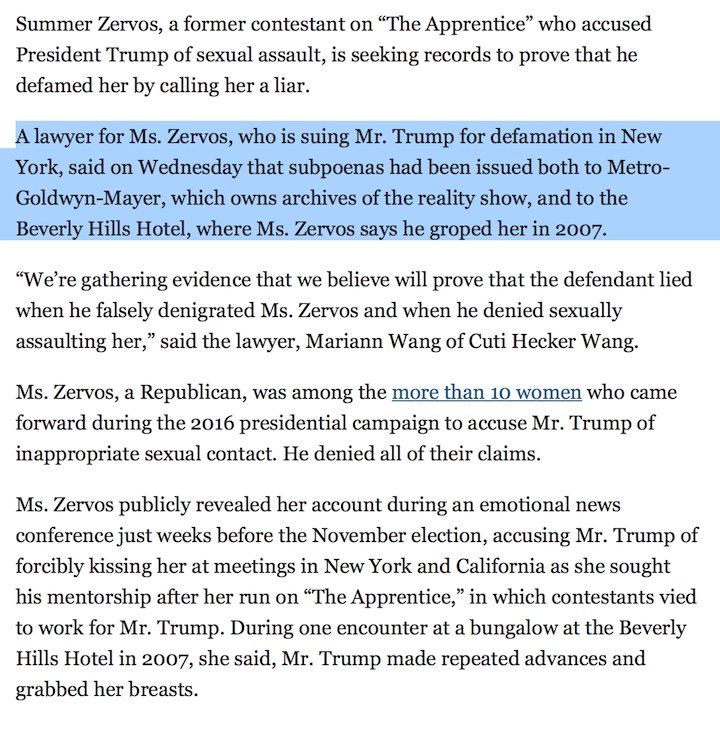 While Roseanne Barr cozies up to POTUS 45 and his base, her ex-husband is wading into the swamp. Viceland has handed a series order to The Hunt for the Trump Tapes with Tom Arnold, in which the titular comic actor is taking his activism off Twitter and putting it into real life.
MGM is subpoenaed for "Apprentice" records as part of Summer Zervos defamation suit against Trump https://t.co/741eF6J6rP

— David S. Joachim (@davidjoachim) May 2, 2018
PRUITT: I tweeted, as a producer of seasons one and two of "The Apprentice," hashtag, when it comes to, hashtag, Trump tapes, I assure you there are far worse. And then I hashtag-ed just the beginning, and I misspelled beginning. And what I meant by that was that we recorded constantly. We went into the boardroom to set up discussions about how and who should get fired without talking and saying directly who should get fired. So there was a big long exchange, all of which was recorded. And out of those exchanges came from really unfathomably despicable words said by this guy who is a TV star. I heard it. I watched it. And those things are somewhere in some warehouse.