Never Trump's major domo, Cohen seems now to have feathered his own nest whilst taking care of whatever complications arose from Trump's extramarital dalliances.
Now it looks like he could cooperate with the feds. And he now is memorialized by one artist with his own subway car advertisement.
Trump's lawyers are now increasingly "resigned to the strong possibility that Cohen, who has a wife and two children… could end up cooperating with federal officials." https://t.co/krHAs42pO3

— Ari Melber (@AriMelber) April 21, 2018
Despite all this it might be unlikely that 45* will leave office prematurely.
Michael Cohen is not going to lead Robert Mueller to Russian collusion. If he were, Mueller wouldn't have referred him over to the U.S. Attorney's office for the Southern District of New York. Cohen is in trouble because he's knee-deep in dirty work. Some of it was undoubtedly for Trump (like paying off porn actresses), but that doesn't mean it takes Trump down. Any big shot with half a brain knows the importance of plausible deniability. How many Wall Street chiefs got jailed after 2008? How much time did Chris Christie serve for Bridgegate? How many clients of Hollywood fixer Anthony Pellicano, who helped them to make problems go away (a reporter pursuing a story on actor Steven Seagal and his possible ties to organized crime found a hole through her windshield, a dead fish, a sign saying, "Stop") get sent to the big house? The answers, of course, are zero, zero, and zero. Michael Cohen might reflect poorly on Donald Trump, but it's not Trump who's likely to go to jail.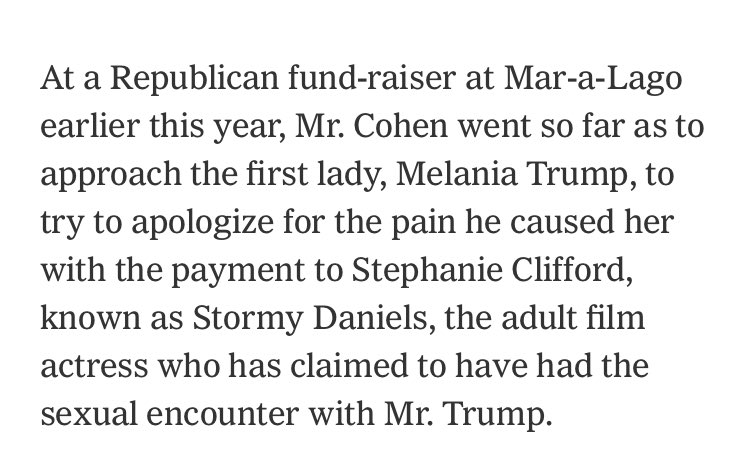 Per the Times, Cohen has been fully committed to Trump's political ventures for years, far earlier than most observers took any notice. In 2012, Cohen scouted out the presidential field as Trump considered a run, meeting with operatives and offering to partially fund an exploratory website with money raised for his own potential Senate bid. Despite that display of devotion, Cohen was given no official role in Trump's 2016 campaign, and Trump frequently allowed him to be humiliatingly shut out by campaign manager Corey Lewandowski and campaign chairman Paul Manafort.
The former lawyer for @StormyDaniels and Karen McDougal is cooperating with federal prosecutors investigating Michael Cohen. https://t.co/fVkpA31ASO

— Renato Mariotti (@renato_mariotti) April 21, 2018
This is more intriguing…
NEW: AG Jeff Sessions recently threatened to quit his job if Trump fired Deputy AG Rod Rosenstein.

Sessions made his position known last weekend, as Trump's fury at Rosenstein peaked after he approved the FBI's raid on Michael Cohen's properties.https://t.co/QIU8RgxAx7

— Caroline O. (@RVAwonk) April 20, 2018