The usual -bots are at work claiming that "Liberals cheer on Kim Jong Un's sister for giving 'deadly side-eye' to Mike Pence". More interesting is their projection of Trumpism onto Ivanka's appearance at the Olympics closing ceremony.
(CNN) If "diplomatic dance" were an event at the Winter Olympics, Kim Jong Un's younger sister would be favored to win gold. 
---
Kim is "the Ivanka Trump of North Korea" because of her family connections and her ability to be a compelling saleswoman, said Sue Mi Terry, a former Korean analyst at the CIA who is now with the Center for Strategic and International Studies in Washington.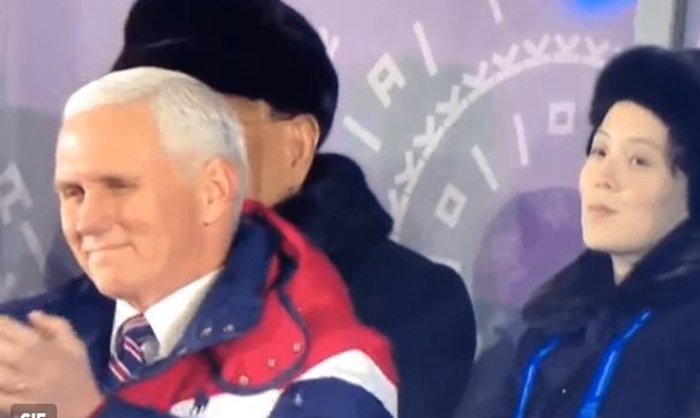 On 24 July 2015, Kim Yo-jong was put in charge of North Korea's Propaganda and Agitation Department (PAD). As the vice director of the country's propaganda arm, replacing Kim Ki-nam.[17] She was said to be the driving force behind the development of her brother's cult of personality, modelled after that of their grandfather, Kim Il-sung.[3] This would help explain changes in the way state policies are depicted in the media, as well as differences in reporting.[3] Thae Yong-ho, a North Korean defector and former diplomat, said in 2017 that Kim Yo-jong organised all major public events in North Korea. Kim Yo-jong was said to have encouraged her brother to present an image of a "man of the people" with, for example, rides on fairground attractions and his friendship with the basketball star Dennis Rodman.[18][19]