Even as curves have bent, the numbers are still too high, and the 36-65,000 death toll from Trump's inaction remains part of the 114,000 US death toll.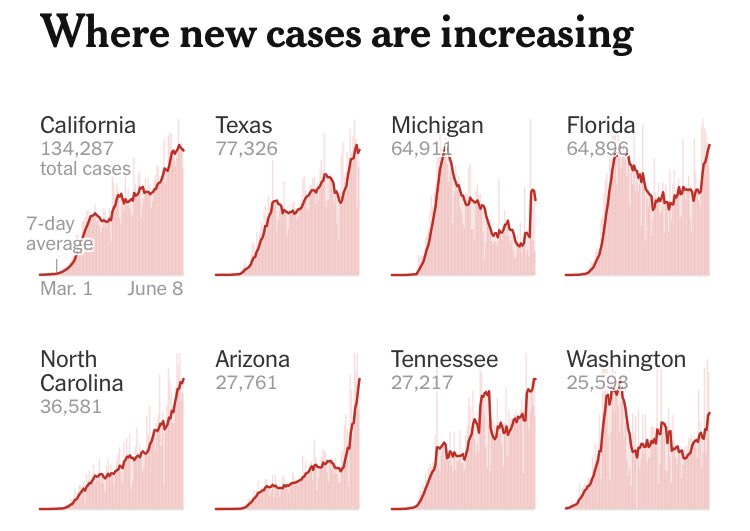 Global #COVID19 death toll (@FT)
– US share of aver. global daily deaths has fallen to 19%
– Latin America & Caribbean now account for 47% of aver. daily global deaths, offsetting decline in Europe & UShttps://t.co/897NWPLaVD pic.twitter.com/BOBatx369U

— COVID19 Digest (@Covid19Digest) June 9, 2020
Satellite imagery showing visits to Wuhan hospitals as well as Chinese internet search inquiries about coronavirus-type symptoms suggest the virus may have arrived in Wuhan as early as October 2019, but Chinese authorities didn't let us know. https://t.co/tj17qz4xxn pic.twitter.com/CaoXwy0bxm

— Kenneth Roth (@KenRoth) June 9, 2020
How to lobster pic.twitter.com/PZTlomCi5T

— Sarah Cooper (@sarahcpr) June 9, 2020
What's happening, in fact, is that Trump is losing, that he has been unable to expand his support and is relying on his 2016 strategy of being the best-liked disliked candidate in order to win. The RealClearPolitics polling average shows that this isn't working and that Biden's margin of support over Trump remains both constant and a function of his own relative popularity compared to the incumbent president.
Consider it from another perspective. If we look at the distribution of the margins between the candidates over the last 250 days, you can see that the Trump-Biden contest in 2020 has operated on a much more narrow range — spread over a range of only 3.5 points. In 2016, the range was more than 12 points.
Of course, there are 150 days to go in which to see similar shifts. If we compare an equivalent period, from 250 to 150 days before the election, 2020 still stands out. In 2012, the contest between Obama and Mitt Romney only covered 4.5 points, but that's still a wider range than what the current race has seen.
The particular problem for Trump here, of course, is that the range isn't hovering around the midpoint of the graph. Instead, it's hovering in a position that gives Biden a 4- to 8-point national margin. A 4-point win in the popular vote might not be enough for Biden to win the electoral college, depending on how things shake out. An 8-point win, though, almost certainly would be.
Republicans just hate helping the unemployed, hate aiding states, in fact hate any kind of disaster response other than tax cuts. And the uptick in jobs gives them an excuse to indulge their hatred. https://t.co/4hNnCgV4rE

— Paul Krugman (@paulkrugman) June 9, 2020
On 6/4/20, the NYPD arrested at least 11 @NLG Legal Observers.

In some cases, NYPD officers read or destroyed LO notes.

Yesterday, the @NLGNYCnews sent the NYPD a letter including demands for immediate action.

Please amplify, and help us make sure this never happens again. https://t.co/7WLbbACaMl

— Gideon Orion Oliver (@gideonoliver) June 8, 2020
The desire to return to normal is not an alternative. That is what has brought us to this crisis, which is completely out of control

Richard D. Wolff @profwolff

There's a Crisis in U.S. Capitalismhttps://t.co/GF7eLFZ5CA#capitalism #EconomicCrisis #USA #inequality pic.twitter.com/RRUmBgM4mz

— Brave New Europe (@BRAVENEWEUROPE1) June 10, 2020